The Blackmores Sydney Running Festival 2011
Raised So Far
$2,439,092.67
Help us raise vital funds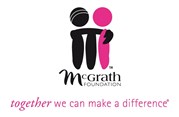 McGrath Foundation A

Expires
Friday, 4 November 2011
McGrath Foundation 2011
It is that time of year again and the
McGrath Foundation
is calling on all of its supporters to participate in the 2011 Blackmores Sydney Running Festival on September 18 to help us reach our target of $25,000.
By supporting the
McGrath Foundation

,
you are helping raise money to place McGrath Breast Care Nurses in communities right across Australia, as well as increase breast awareness in young Australian women.
There is no need to be a professional runner, as the festival gives people of all ages and abilities the opportunity to run, jog or walk over the famous Harbour Bridge and finish at the equally iconic Harbour Bridge.
Once you have registered for the Blackmores Running Festival and set up your page here, make sure you join the McGrath Foundation fundraising page. Just click the 'Join this Team' button on the right of the screen so your fundraising efforts can be automatically added to our goal of $25,000.
Thank you very much for your support, and remember as we say at the Foundation, together we can make a difference!
Yours in Pink,

McGrath Foundation
The McGrath Foundation raises money to place McGrath Breast Care Nurses in communities across Australia as well as increasing breast awareness in young people.

McGrath Breast Care Nurses help families in Australia experiencing breast cancer by providing invaluable physical, psychological and emotional support from the time of diagnosis and throughout treatment. This support is provided free of charge and can be accessed through self-referral.

To find out more about how you can help make a difference, please visit www.mcgrathfoundation.com.au
Please make sure you are LOGGED IN. You can only join a Team Leader page if you are logged in and have an Individual page created. If you do, it will be displayed here once you've logged in. If you don't, please return to the 'home page' and follow instructions on how to create your Individual page.
FUNDOMETER
Target
$25,000
Raised So Far
$0
Target
$25,000
Raised So Far
$19,546
Team Members
My Total: $0
Team Total: $19,546.05