The Blackmores Sydney Running Festival 2011
Raised So Far
$2,439,092.67
Help us raise vital funds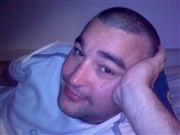 Emma Hamill

Expires
Tuesday, 17 January 2012
Team Shearing - Sydney Half Marathon 18th September 2011 - In Memory of Noel Shearing
TEAM SHEARING will be running the Sydney Half Marathon on Sunday the 18th of September 2011.
We are running this marathon for my husband Noel Shearing (Shez), who was tragically killed in an accident on the 8th of November 2009 at only 34 years old.
He was an extremely generous person, he was ALWAYS there for his family and friends no matter what, and he would have given the last penny in his pocket if he thought someone else needed it more than him.
It was for this reason that I decided to try and make something positive come out of his death as I know he would want that.
It was an easy choice to pick a charity that would 'fit' with what Shez loved in life and what he stood for and that charity was St. Anthony's Orphanage in Sri Lanka. Shez and I were planning to volunteer at the orphanage to give something back to a country that provided us with the best day of both our lives (our wedding on the 19th of September 2009).

So far we have raised an amazing $25,000 (Australian Dollars), but we need to raise more and keep raising money – this is a lifelong commitment for me on his behalf. St. Anthony's need ongoing funds to keep the children sheltered, clothed, fed and education - we need to help them as much as we can.

So please support us in any way you can – raise money by joining Team Shearing (email Emma – emma.hamill@hotmail.com) or support the team or an individual by donating and helping us EXCEED our target of $23,000 (Aussie $$).

Also as a side note most Team Shearing are NOT RUNNERS – this is a massive challenge for us to run 21.65kms!!!! But Shez and the kids at St. Anthony's are worth all the hard training, cramps, blisters, tears and hopefully at the end relief and happiness!

Thanks in advance for your support – it means the world!

Emma


KKCF (Kathleen Keegel Children's Fund)
The Kathleen Keegel Children's Fund (KKCF) is managing a children's home, kindergarten and an advanced development centre for boys in Sri Lanka.
Our home provides a safe and loving environment for children who have come from backgrounds of abuse and neglect. We currently have 30 children living with us, ranging in age from 6 to 16 years old living. The children attend schools in the local area, have English lessons at the home every day, and take part in music, craft and sports on the weekend.
More information at www.kkcf.org
Please make sure you are LOGGED IN. You can only join a Team Leader page if you are logged in and have an Individual page created. If you do, it will be displayed here once you've logged in. If you don't, please return to the 'home page' and follow instructions on how to create your Individual page.
FUNDOMETER
Target
$30,000
Raised So Far
$945
Target
$30,000
Raised So Far
$36,520
Team Members
My Total: $945
Team Total: $36,519.89
Biggest Supporters:
Rachel Pierro: $500.00
Corrina Donaldson: $100.00